Safety First
How we're taking action
Now more than ever we're taking real steps to take care of our people and our guests - it's the thing to do.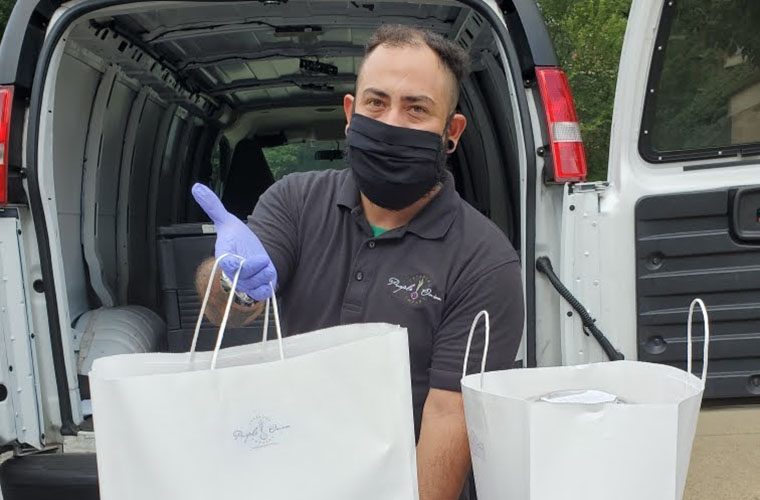 Care for our guests
Health Department Scores

Top health department scores.

Sanitizing High Contact/Traffic Areas - Kitchen

Kitchen and all equipment sanitized twice daily.

Sanitizing High Contact/Traffic Areas - Office

All surfaces, such as door handles, copiers, desks, telephones, etc. sanitized twice daily.

Handwashing

Staff washes hands frequently, at minimum every 30 minutes.

Safety and Sanitation Manager

Viverra orci sagittis eu volutpat odio facilisis mauris.

Hand Sanitizer

Hand sanitizer available for guests and staff.

Safe Service

Staff serves all food to guests.

Single Serve

Service items that traditionally communal will be individually packaged.

Practice Social Distancing

Work stations (kitchen and office) spaced 6 or more feet apart.

Clean Vehicles

All delivery equipment and vehicles are cleaned daily.

Individually Packaged Meals

Individually packaged meals come with individually wrapped utensils, disinfectant wipes, condiments, etc.

Culinary Team PPE

The culinary team wears gloves, masks and hair nets while preparing food.

Delivery/Services Team PPE

The delivery/service team wears gloves and masks while serving food.

Contactless Pickup and Delivery

Contactless pickup and delivery is available for all orders.

Occupancy Guidelines

Seating capacity at venues based on state/local guidelines.

Seating Arrangements

Dining tables at venues placed 6+ feet apart, with 10 or fewer guests per table.

Food Made to Order

Our food is freshly made to order.

Safety Reminders

Signage throughout the building reminding everyone of how to be safe.
Care for our team
Hand Sanitizer

Hand sanitizer available at all points of entry/exit throughout our commissary.

Daily Temperature Check

Employees must pass a temperature and health check prior to each shift.

Health & Safety Check

All employees complete an Attestation for Worksite Entry document

Building Safety

The entire building is locked and all entrants must be checked in.
Questions? Concerns?
We're here to help you gather safely.
We appreciate your support!