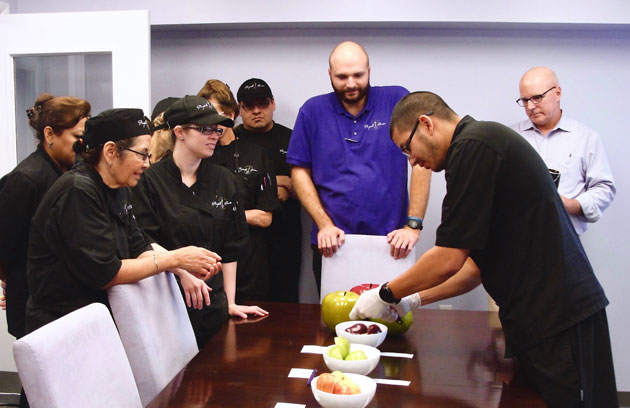 What do you look for in a hospitality career opportunity? Is it a team environment? Maybe it's hands on experience and opportunity for growth. Do you have a constant craving for a challenge, or want the experience of working for a prestigious, award-winning organization? Perhaps it's financial security for yourself and your family?
Perhaps you're looking for something entirely different, for the kind of self-actualizing happiness that comes with finding love in your everyday work. You can find all the elements that make for a self-satisfied and successful career here at Purple Onion Catering Co.
Catering careers and culinary jobs are in increasingly high demand with the expanding service economy, especially in our local Vienna, VA area. Here are a few insights on what makes working with our organization truly incredible.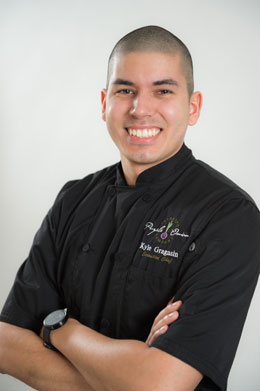 Kyle, Executive Chef
I've worked at Purple Onion Catering Co. for nearly six years. It is an amazing privilege to come to work every day surrounded by people I consider to be my second family, and being promoted to executive chef here was the proudest moment of my career.
If I could describe the environment here in three words, it would be, "challenge, teamwork, and family." Every day, we come together in the spirit of creativity to make something truly imaginative and memorable for our clients. It bonds us, and it keeps us coming to work every day with the same passion for food and hospitality.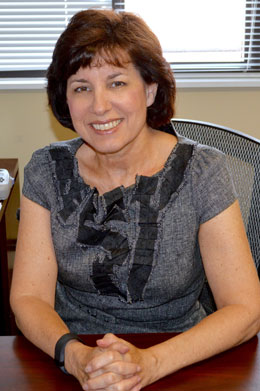 Shelli, Administrative Manager
After six months of working here, it's easy to tell just how close and how real it is to work at Purple Onion Catering Co. We are close both in the workplace and after hours. One member of our team recently invited us to join her at a yoga studio that she frequents. It was a great time doing something that helped us step out of our comfort zone and do something outside of the normal day-to-day duties. Moreover, I know that I am working for a special organization each time I witness the compassion shown to employees. Whether it be helping an employee through a tough day or through other personal challenges, the culture here is incredibly supportive. It feels great to work at an organization that understands us all as human beings and appreciates our contributions.
Monica, Operations Director
I've worked here at Purple Onion Catering Co. for 15 years, and few things can come close to matching the sense of pride I feel when I hear Margot, the owner, talk about our organization's accomplishments up to this point. Knowing that I've been part of that growth and that development (as an organization and as people) is so invigorating for me.
For someone interested in working here, I say absolutely come be part of our family. It's an exciting, challenging, evolving family atmosphere with a group that cares deeply about each other and our clients. This is more than a career. Purple Onion Catering Co. is a calling.
One thing about working at Purple Onion Catering Co.—our whole team identifies with the catering and hospitality way of life. Our biggest selling point is our culture. Our forward-thinking mindset appeals to anyone looking for career opportunities in catering and hospitality. Our values transcend our people, making our team greater than the sum of its parts.
Ready to join our team? We're ready to have you. Contact us online here or give us a call at 703.631.0050 with any questions and begin the application process.
More articles you might enjoy: