One of our favorite weddings trends that has really taken hold and is swifty moving to become a mainstay is the late night snack. With more and more couples hosting after parties, it makes sense to send your guests off to continue dancing the night away with a snack in their bellies. We're here to provide some out of the box ideas to get that late night snack train rolling. 
Street Food
This is such a fun way to either broadcast your love of travel or showcase your family's culture. We recommend taking an elevated approach of a street food from your favorite regions. Some of our favorites include upscale ramen (we present ours with a hot siphon station for great interaction between guests and chefs) with a soft-boiled egg, mini Italian paninis with prosciutto and mozzarella, or street cart kabobs. Want to make it really fun? Harken back to your college days with a mini upscale version of a Crunchwrap Supreme from Taco Bell, with chorizo and creme fraiche.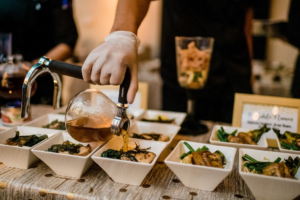 Deep-Fried Favorites
Your wedding is a party- why not make it a carnival? Feed the party with satisfying and indulgent snacks. We're a fan of funnel cakes dusted with powdered sugar, gourmet corn dogs, caramel corn, or even fried pickles. We'd make a bacon jalapeno cheddar corn dog, crispy panko-crusted chicken tenders, and finish it off with homemade animal crackers to go for the ride home!
Taqueria Station
There are two ways to make this idea work, and we love them both! One is to keep the food going with traditional mini tacos. Our clothespin short rib taco, mini ahi tuna poke taco, and our clothespin guajillo chile chicken tacos passed around on the dance floor are bound to be a success. However, we love borrowing from a Texas tradition that really speaks to keeping the party going: Breakfast tacos! Our breakfast taco station includes sunny side up eggs or eggs made to order, soft corn tortillas, roasted potato hash, chorizo, bacon, creamy black beans, guacamole, cheddar cheese, pico de gallo, salsa verde, and even Cholula hot sauce to customize to your guest's delight.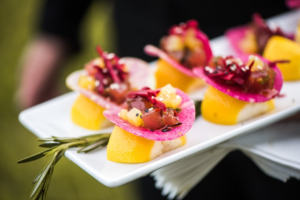 Coffee and Doughnuts
Traditionally, most couples serve coffee and tea immediately alongside their cake. However, we recommend supplying a second round towards the end of the evening, alongside hot chocolate for those who don't want to imbibe caffeine so late. Nothing pairs better with a coffee refresh than doughnuts, and we have the way to do it. Our build your own designer doughnut station features mini doughnuts for your guests to top with a smorgasbord of options including a caramel glaze, chocolate glaze, or traditional glaze,  Fruity Pebbles, crushed Reese's peanut butter cups, crushed oreos, toasted coconut, sprinkles, Heath Bar pieces, and crushed peanuts. Let your guests make their own sweet treat to keep them sustained for the rest of the evening!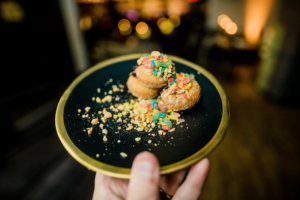 Diner Delights
We also love the idea of bringing the diner to your guests, because who doesn't remember stopping at a late night diner for some snacks after a night out? We recommend mini hamburger sliders and mini hot dogs passed around with all the fixings. Another fun option is to bring out a boozy milkshake station. Ours comes in flavors of bourbon vanilla, mint chocolate chip, or strawberry shortcake. If you want to make it even more playful, pass out mini ice cream sandwiches to end things on a sweet note.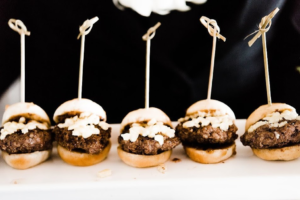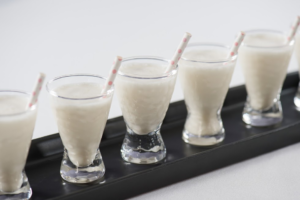 Bring Back Breakfast                                                                 
 Another playful idea is to bring breakfast into the equation for those planning on extending the night out. We love the idea of a breakfast cereal bar. Set up all your childhood favorites like Lucky Charms, Honey Nut Cheerios, Apple Jacks, and more, with a variety of milks, from regular to strawberry, and watch your guests relive their childhood favorites. 
With an array of options this large to choose from, you're sure to pick late night snacks that can suit any type of party and any palate. Our best recommendation for making late night snacks work for your wedding is to have fun with it. Bring out your playful side and watch your guests indulge and have an amazing time!