When planning your wedding, decor is one of the biggest considerations, and florals play a large part of that decor. You want your wedding to shine, and florals can enhance your wedding from a glimmer to absolute sparkle. What better way to tie in the use of your favorite flowers  than to incorporate them into your menu?
We believe that adding florals is a fun and playful way to tie your whole wedding together. Purple Onion has all the ideas to incorporate flowers into your menu for every single course!
Beverages
The most traditional of wedding flowers is, of course, the rose. What better way to incorporate them into your menu than in a rose (insert symbol) sangria? The secret to this delicious concoction is the addition of rosewater, which is made from steeping rose petals in water. This beverage can work with almost any of your favorite fruits, making it adaptable across the seasons.
Just request a blend of dry rose wine, rosewater, and a liqueur (we recommend St. Germain elderflower liqueur to really up that floral quotient!) with sparkling water and you have a refreshing and delectable specialty drink. We'd add in floating rose petals for a special touch. 
Another recipe we love incorporates the heady scent and beautiful symbolism of honeysuckle (in the language of flowers, it means devoted affection). We make a sweet syrup from honeysuckle blossoms and mix it into a tart lemonade, and add vodka for a kick. This honeysuckle vodka lemonade would liven up any summer wedding! If you want your florals perfectly preserved, try edible flower ice cubes. By floating an edible flower in an ice mold, you create signature ice cubes that really wow. Perfect for a beehive jar water station to refresh your guests!
First Course
A beet salad is a delightful way to use produce year-round, but if lavender is your favorite bloom, a honey-lavender vinaigrette really brings out the sweetness of the beets with a hint of herbal flavor and a delicate scent. It's so unique it's guaranteed to have your guests asking what the secret to their first course was!
Looking for an appetizer that will really blow your guests away? Impress them with stuffed zucchini flowers. Our recipe calls for goat cheese, but you can choose any creamy cheese to pipe into those lovely blooms. Serve them fried or present the beautiful color of those blooms as nature intended.
Main Course
One of our favorite dishes to make may seem like a cheat in its title; our Lacquered Wildflower Honey Chicken is, after all, made with honey, not flowers. However, with its rosemary, fresh orange, and citrus beurre blanc, this dish is perfect for garnish with edible flowers, making the prettiest plate you've seen in a long while!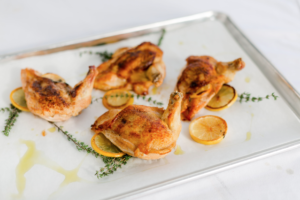 If you want to see a main dish with florals more subtly blended in, may we recommend a pan-seared halibut with an herb and flower compound butter? We love the bite of chive blossoms, the subtle tang of mustard flower blossoms, and nasturtium for color with the more subtle flavors of thyme, dill, and sage. This flavor bomb slowly melts over delicately flaky halibut for a truly gorgeous and flavorful meal.
Dessert
Dessert is a truly fun place to incorporate florals into your menu. We have an abundance of ideas to bring edible flowers into play, but here are a few of our favorites:
Hummingbird cupcakes with an edible pineapple "flower". This one's a bit of a trickster, but turns out that dehydrating a thin slice of pineapple creates a beautiful flower to place on top of delightful hummingbird cupcakes. These cupcakes, a Southern tradition based on pineapple, walnuts, and bananas, are a cheerful addition to any wedding.
One of our most popular desserts is the pavlova, which is delightfully crunchy and sweet and naturally gluten free! Upgrade it with candied pansies for a gorgeous look.
Want a French twist on your desserts? We make phenomenal eclairs, and blueberry and candied violets pair beautifully together for a vivid deep purple hue that will keep your guests talking. If eclairs aren't your thing, try a jasmine tea macaron in a lovely light lavender with a fresh scented buttercream.
With all these options, it's easy to see that you can incorporate florals into every aspect of your menu, should you wish. Just pick your favorite flower and see what our chefs can come up with!