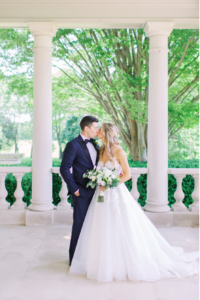 We are so enamored with the gorgeous wedding of Brian and Rachel last month at Great Marsh Estate.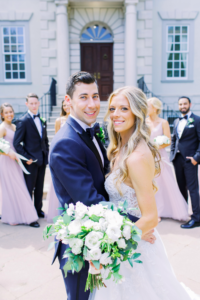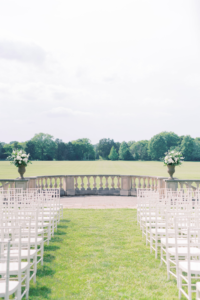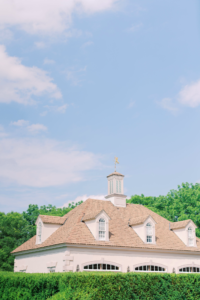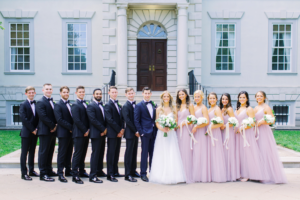 With a team of outstanding vendors (check them out below!), Event Designer Brooke Hickling helped put on a joy-filled event that truly celebrated this couple's love and history. Brooke describes this couple as a joy to work with from start to finish. They had a clear vision of what they wanted their wedding to be and were a delight at their tasting with us. It's no surprise to us that Rachel and Brian were so delightful and in sync with each other. This couple has, after all, been headed towards the aisle since they met in eleventh grade! They're clearly a couple that is meant to be. Rachel and Brian were relaxed and joyful throughout the wedding process, their families were warm and cheerful, and their friends not only made phenomenal models, but were phenomenal fun to be around. We were absolutely delighted to be part of their big day.
Their wedding menu featured some of our favorite hors d'oeuvres, including our signature mini jumbo lump crab cakes with a summer aioli, our clothespin short rib tacos, a summery caramelized peach crostini, and our famous cinnamon sugar doughnut sliders with crispy pork belly.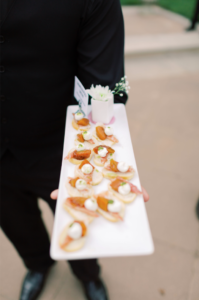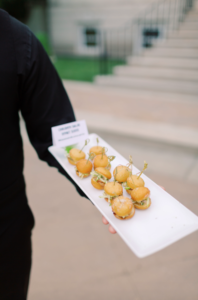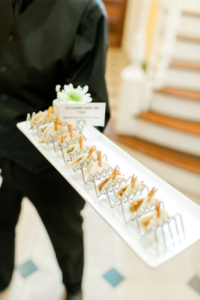 When guests moved from the cocktail hour to the reception, they were in for a beautiful sight! Tasteful white florals, farm tables, wine country chairs, and beautiful candelabras decorated the elegant space.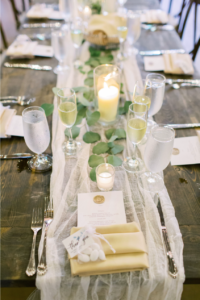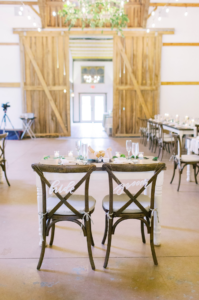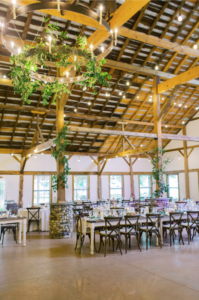 For dinner, they selected our Vin Blanc chicken, featuring a Chardonnay Beurre Blanc, as well as our Oak Barrel Marinated Bistro Tender. They served these delicious entrees alongside summer vegetable risotto and our spring roasted vegetable medley, featuring malibu carrots, artichokes, asparagus, purple onion, yellow squash, and a zingy lemon herb vinaigrette.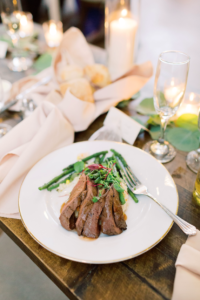 For dessert, Rachel and Brian had a darling wedding cutting cake provided by our own pastry department alongside a delectable display of cupcakes.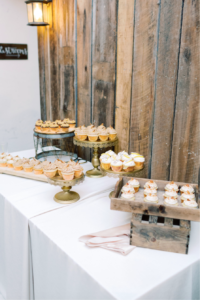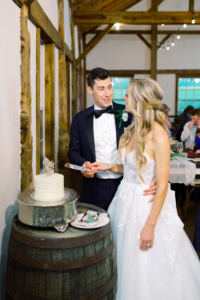 The guests were clearly enjoying themselves and the venue, and we couldn't be happier.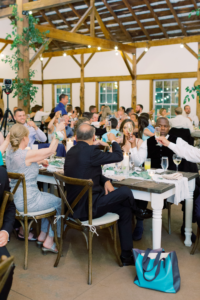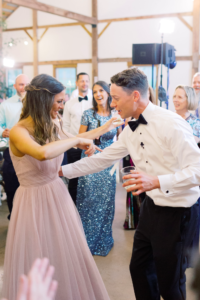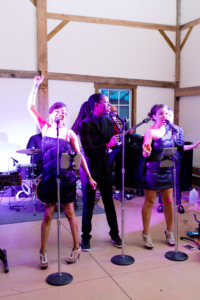 We loved working with this couple and seeing what our village (literally- we had 19 staff members on hand!) could help create to make this day magical. Thank you, Rachel and Brian, and congratulations on the start of your beautiful lives together!
Thank you to the team of phenomenal vendors we were blessed to work with including: @kir2ben photography, @kristinamarierayer planning, @great.marsh estate for the venue, hair by @staciesnyderbeauty, makeup by @shenoanicolemakeup, flowers by @leroyfrenchflowers, and videography by @paperboysfilms.