We're delighted to be featuring another gorgeous wedding on our site today. This time, we are celebrating Meghan and Karl, who were married on June 8, 2019, at Stone Tower Winery. 
Our Senior Event Designer, Paige Carney, described Meghan and Karl as a perfect pair, and it's easy to tell why. Meghan and Karl met via dating app roulette (Meghan let a friend send a wink for her!) and shared their first date at a wine bar in Capitol Hill. Their conversation flowed as seamlessly as the wine service, and Meghan called her friend afterwards and told her she'd met "The One". A year and a half later, Karl proposed in front of the Capitol building on a snowy night, and Meghan gave an enthusiastic yes.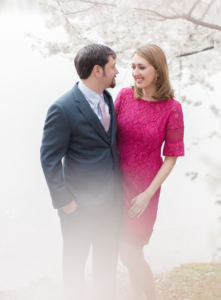 The first decision Meghan and Karl made was their venue. Having grown up in small towns in Massachusetts and South Carolina, the couple decided they wanted a venue that didn't reflect the big city but their backgrounds and shared values. When they toured Stone Tower Winery, they fell in love with the view (and who couldn't?), the grounds, and its small town location immediately. Meghan's choice of bridal colors (blush and burgundy) reflected both the wine-date history and venue, as burgundy is both Meghan's favorite color and the color of luscious red wine!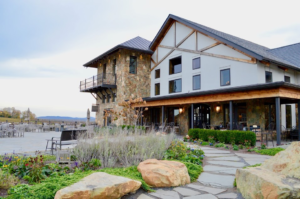 Meghan and Karl made quick work of the wedding planning process, booking Purple Onion Catering Company shortly thereafter, amongst their other vendors. Before they knew it, the big day had come. 
Every part of their ceremony was special and thoughtful. Meghan's strong Catholic faith was reflected in their Catholic mass ceremony, which was made even more memorable by being led by two friends of the couple who are now Catholic priests. Meghan and Karl said their vows at St. John the Apostle Catholic Church before heading to Stone Tower Winery to continue their celebration of love.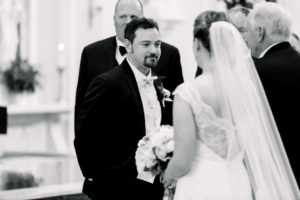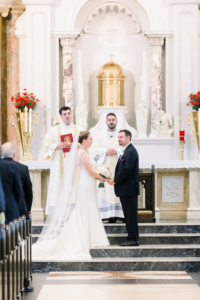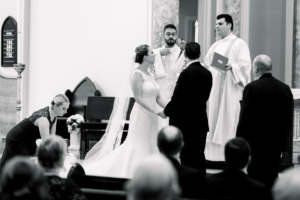 At Stone Tower Winery, the happy couple and their bridal party posed for photos while cocktail hour flowed for their guests. Rest assured that we kept the bridal party well-fed during this time! Meghan and Karl's cocktail hour samplings reflected both their Massachusetts and South Carolinian roots. Guests and the bridal party munched on our Petite Surf and Turf Bites, Lemon and Thyme Chicken Salad Cones, Southern Fried Chicken and Waffle Bites, and Mini New England-Style Lobster Rolls.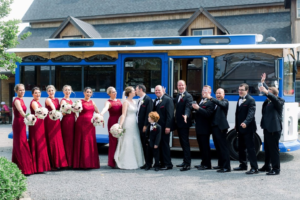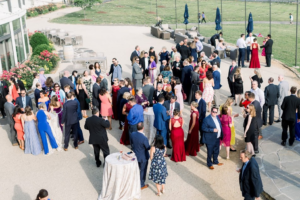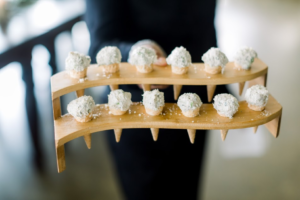 For dinner, everyone enjoyed our Citrus and Peach Salad featuring mixed greens and arugula with slices of grapefruit, oranges, grilled peaches, a rustic multigrain crouton, and peach champagne vinaigrette. Dinner was a pre-selected entree of either our Oak Barrel Marinated Bistro Tender or Jumbo Lump Crab Cakes with Summer Herb Aioli, served alongside grilled zucchini and summer squash and a truffled potato plank. This menu was enjoyed on Meghan's stunning choice of rental selections and tablescape.  We especially loved the gold flatware she chose, which gave a pop of brightness to the table.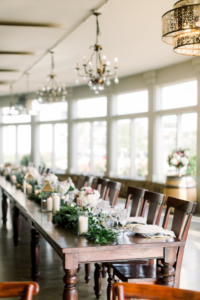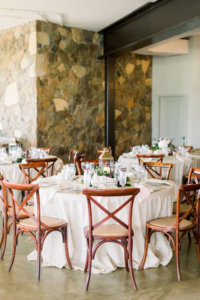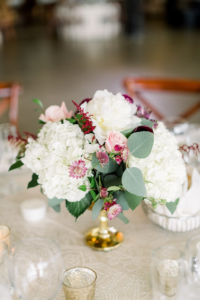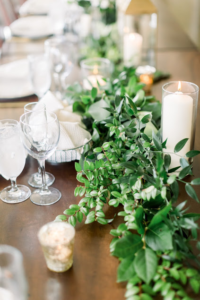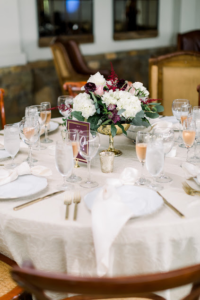 We provided the couple's beautiful two-tier wedding cutting cake, alongside a custom dessert station. Treats we made included Mini Carrot Cake Cupcakes, Cheesecake Stuffed Strawberries, Mini Key Lime Tarts, and Mini Peach Tarts. Meghan reported to us that the desserts were easy finger foods for guests to grab to take outside on the patio with them to enjoy the evening. Other highlights of the outdoors included a fire pit set up with S'mores and a cigar bar.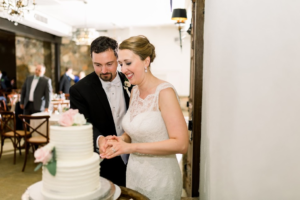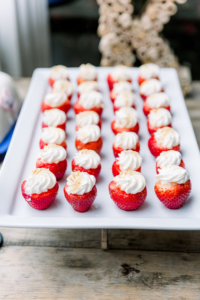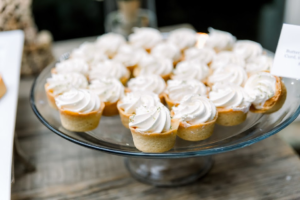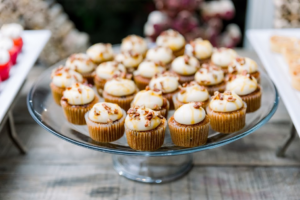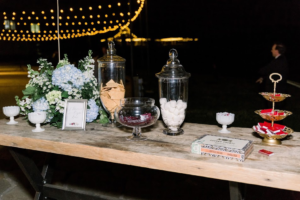 After the guests filled their bellies with our delicious food, the dancing began! Meghan and Karl shared a beautiful first dance, and the party went on for hours while guests and the bridal party danced the night away.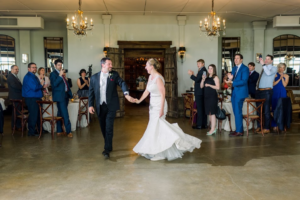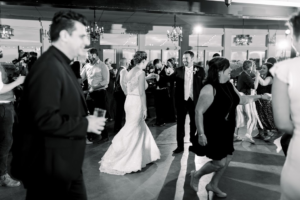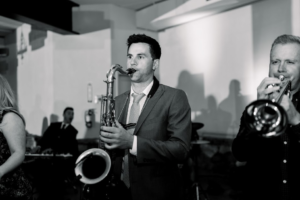 We had such joy in working with Meghan and Karl and their team of spectacular vendors. We hope you enjoyed this real wedding as much as we did!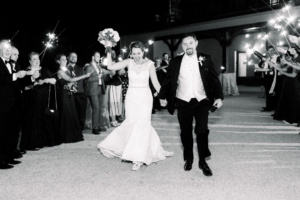 Vendors included: 
Band: Bachelor Boys
Photography: Candice Adelle
Flowers: J Morris
Dress: Elegance by Roya Alexandria
Trolley: Ciao Bella
Videography: Skipper Films
Makeup: Tracey Garcia
Hair: Katrina Grimm
Coordination: Terry Kaye Events
Custom Wedding Bands: Alexandria & Company
Groom's Cake: Haute Cakes
Catering: Purple Onion Catering Company
Wedding Cake: Purple Onion Catering Company
Rentals: Select Event Rentals