We're delighted to highlight the June 15, 2019 wedding of Megan and Danny. Megan and Danny chose the gorgeous venue of the National Arboretum because of their shared love of nature, and this venue certainly delivers on providing a stunning, nature-filled backdrop.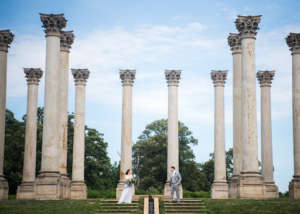 The photos from their first look show Megan and Danny's connection. They're college sweethearts who grew together from their time at Penn State, to Manhattan, to starting their home in Washington, D.C. While Danny proposed in Manhattan, the beautiful outdoors of the National Arboretum spoke to Megan's heart for where they had to marry.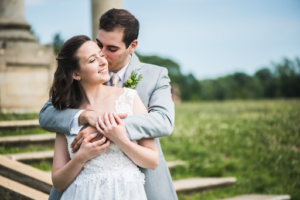 Megan and Danny are a passionate, hard-working couple; Megan just got her MPH in Epidemiology and works for USAID'S Bureau of Global Health, while Danny works for a medical marijuana cultivation center. Their passion for the health and well-being of others translated itself into their wedding planning process, from their choice of venue to their menu and beyond. Their choices led to one seriously enjoyable, happy, and elegantly outdoorsy wedding. 
Their ceremony was on a gorgeous breezy day. Just look at how the wind made these photos pop! We especially love the view from the wedding arbor.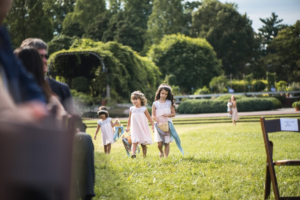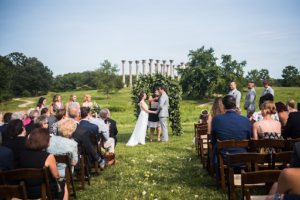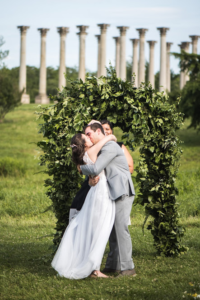 Cocktail hour was next, and their wedding menu featured an eclectic mix of hors d'oeuvres that we loved together. They started with our bahn mi canape, featuring a french bread canape, vietnamese pork, cucumber, cilantro, and the kick of jalapeno and pickled radish. They followed this with beef with tomato demi sec bruschetta, a mini zucchini vegetable roll, and our watermelon radish tuna poke. Guests munched and mingled on these hors d'oeuvres during a sunlit cocktail hour.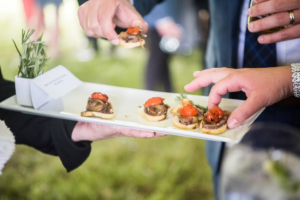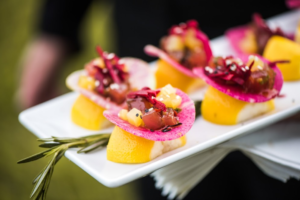 For dinner, guests enjoyed either our lacquered wildflower honey chicken or honey-lime grilled salmon with black bean and corn salsa alongside orecchiette macaroni and cheese and grilled vegetables with a balsamic drizzle. 
The bride's sister made this gorgeous cake, which we complemented with our own dessert bar, featuring mini carrot cake cupcakes, opera cakes, mini fruit tarts, and chocolate mousse sweet shots.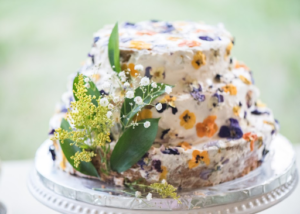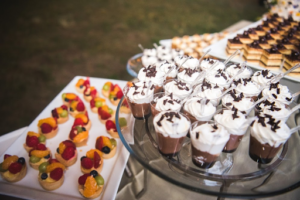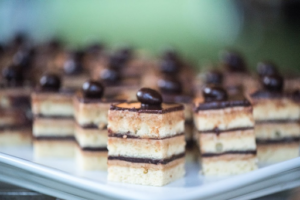 The wedding ended with a phenomenal party.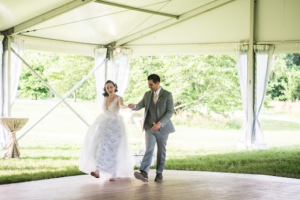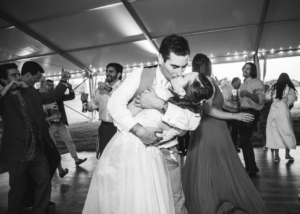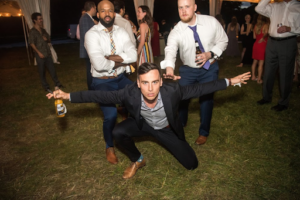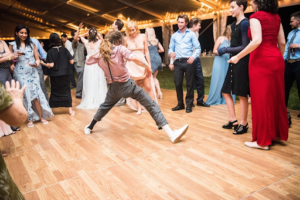 While we loved every moment of this wedding, we live for the feedback we received. Megan wrote us and shared that working with Purple Onion "was honestly a dream". She wrote: 
"Everything was beautiful, the staff were kind, and the food was delicious. I didn't have a single complaint from my guests about anything… The staff were also extremely accommodating of all my last minute changes… and we had so many compliments on the quality of the food and the attentiveness of the staff. I would definitely recommend Purple Onion to anyone hosting a wedding."
Thank you, Megan and Danny, for letting us be a part of your special day!
Photography credit goes to: Photos from the Harty