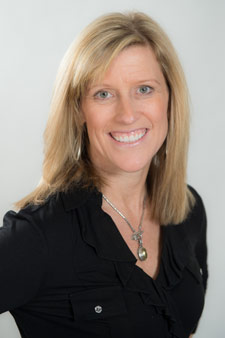 We know how important it is to get to know our clients. We also know how important it is for our clients to know our team. That's why we have taken time to interview our design staff in our new blog post series, Meet Our Event Designers. They aim to use their talent and unique perspectives to make your event a success. Read about what drives them and keeps them excited about their work.
Without further ado, let us introduce you to our first featured designer, Margaret!
Margaret joined Purple Onion Catering Co. in August of 2013. She began her career in the industry by planning birthday parties and events over 15 years ago. Margaret will bring her client's vision to life whether it's a corporate event, a small intimate social gathering, or large party/wedding.
What's your favorite color? Does that affect what you suggest to your clients?
I like both Navy and Orange.
Color is such a fun and integral part of an event as it is the first impression someone gets when they enter the party! It really sets the stage for what's to come.  I tend to lean more towards bold colors because they make such a statement, but I don't let that affect my suggestion to clients. I believe the starting point of any event is the theme clients have in mind. Typically, I help the client find colors that are on-trend and in season or in conjunction with their theme. Purple Onion Catering Co. is always getting in the newest bars, soft seating, linens, décor, dishes, glasses, all of which can define theme and color.
What is the most memorable response/reaction to your work from a client?
Working with clients throughout the planning and event process is very rewarding. I always look forward to hearing the clients' impressions and feedback after the event. The most memorable response I have ever received from a client was after doing their daughter's Bat Mitzvah and they told me how they could not have been happier with how their whole vision for their Cirque du Rebecca theme came together, from their Stations menu, Teen Buffet Ice Cream Soda Bar to the Candy Buffet. They mentioned how beautiful everything had been and that I was in their family photo album. They told me that I would always hold a special place in their hearts.
What are five things you can't live without?
The most joyous part of life and some things I could not live without are my family, friends, having a purpose, enjoying the outdoors and indulging in chocolate! My husband Steve and I have been married 23 years, and we have two daughters (18 and 21). So, I can completely relate to events celebrating the most memorable experiences of their spouse or children's lives.
For so many people, entertaining and preparing great food for a crowd is so challenging that they often feel too overwhelmed to celebrate. That's where I come in! I am HAPPY to take care of every detail from start to finish. My clients can enjoy celebrating momentous occasions and not have to worry about the design, the food, the dishes, the clean up or the service. A caterer takes care of all those details!
I believe life is too short not to LOVE everything you're eating! One thing I could not live without is chocolate!  Life would not be the same without enjoying the outdoors! Whether it's running, walking, biking or just sitting outside to read, I make time to do things I love.
Which venue is your favorite and why?
I really love working at Early Mountain Vineyard located outside of Charlottesville, Virginia. Its natural beauty makes it a gorgeous venue with a panoramic view of the Blue Ridge Mountains surrounding the property. The modern and luxurious amenities are inspiring and accommodating all at the same time. Whether you are in the tasting room, the patio, the ceremony site or the reception space, you will always be gazing at the beautiful mountains.
What do you love most about your job?
It is a different job every single day. Event planning is not a typical 9 to 5 desk job as it's engaging, active, creative, and interactive. I feel fortunate to use my talents to help create successful events and become an integral part of the biggest moments in my clients' lives. I just love that I can make their celebration seamless so that their focus can be engaging the guests, celebrating the guest of honor, eating, drinking, and having fun!
Portfolio
For three decades, Purple Onion Catering Co. has catered the Northern Virginia and Washington D.C. area. Our creative professional team invests time in getting to know you and adding your personal touch to your event. If you would like to speak with Margaret or another Purple Onion Catering Co. event designer about your unique vision, please contact us online or call us at 703-631-0050.
More Articles You Might Like: