2016 weddings are showcasing couples' unique styles and personal touches even more than in 2015. Couples are harnessing the energy of lively cities and creative wedding planners to make their unique styles shine at these one-of-a-kind weddings.
From wedding color schemes and décor to wedding menus and signature drinks, 2016 calls for customization and personalization more than the stamp of tradition.
Top 2016 Wedding Trends
Infuse your personality into every part of your wedding and then invite guests to relax and enjoy the best catering in Washington, D.C. Now, planning a wedding is starting to sound pretty fun, right?
But you know what they say—with freedom comes responsibility. So let our experienced event designers help by walking you through the 2016 wedding trends that will play a big part in every wedding decision.
1. Personalized Wedding Themes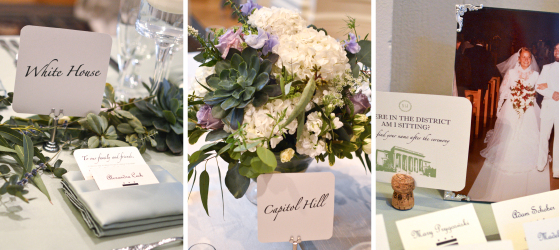 Couples are looking for wedding themes that reflect their story or interests. Favorite destinations and hometowns are lending some of the most popular 2016 wedding themes. An Old Hollywood theme is a great way to mix classic and fun. When considering your options, look for a wedding theme that will engage guests by creating an interactive and comfortable atmosphere.
2. Fresh and Healthy Wedding Food
Fresh, local and seasonal ingredients are now more of an expectation than a trend, which has always been the standard in the Purple Onion kitchen. Now, wedding plates are getting even fresher and greener as more wedding dishes feature vegetables in the sides or entree. But it goes without saying that couples are looking for innovative menus that embrace family-style serving, so working with a creative catering company is crucial.
Hearty eaters, rest assured that the health trend does not mean bacon is going out of style. You can have the best of both worlds by combining veggies and bacon; our Caramelized Brussels Sprouts with Sweet Purple Onion and Applewood Smoked Bacon is one way to give guests everything they want and need.
3. Multicultural Wedding Menus
Couples are working closely with the top catering companies in Washington, D.C. to craft heritage dishes that pay tribute to their culture. Middle Eastern flavors are especially popular, but any unusual ingredients, strong flavors or cultural dishes are welcome.
4. Daytime Weddings
Imagine how you feel basking in the sunshine while chatting with friends over a good cup of coffee. Now think, what if all your wedding guests felt like that on your special day? The desire to make guests comfortable is one reason—among many—that daytime weddings are increasingly popular. They may also cost less and let you stretch the budget to include your favorite breakfast foods on your custom wedding menu.
You won't hear a single complaint from guests sipping on mimosas and Bloody Mary's and crafting custom omelets at a welcoming Washington, D.C. wedding venue like The Black Horse Inn located in Warrenton VA. Count it as an added bonus if guests can settle in for both the ceremony and reception at such a beautiful location. You can use our venue locator to explore this and more than 80 other top venues in Washington, D.C. and northern Virginia.
5. Petite Wedding Cakes and Desserts
You would think choosing your wedding cake would be simple. But there are so many choices out there. 2016 wedding cakes will be bright, bold and covered in intricate details. We expect to see large statement peonies and roses as well as more organic floral arrangements, including the always-stunning climbing flowers with plenty of foliage. Lace detailing will be more on the classic side. But in 2016, the "return to tradition" will be fashionable.
Petite naked cakes are an open canvas but are also beautiful without decoration. Place them among an array of innovative mini wedding desserts like:
Mini Nutella Eclairs: Traditional Eclair Pastry with Nutella Filling
Mini Chocolate Peanut Butter Ding Dongs
Miniature Tiramisu Spoons: Kahlúa-soaked Ladyfinger, Mascarpone and Cocoa served in a Chocolate Spoon
Recently, more and more brides are finding the right choice within variety. Instead of opting for one cake, couples will find the perfect combination of desserts and create their own dessert station.
6. Unique Wedding Drink Stations
The best Washington, D.C. catering companies are finding that guests are thirsty for more than just the classic wedding bar. Couples are also offering healthy drink stations that include juices, coconut water, lemongrass and even birch water.
In the evening, bring out coffee and tea stations with a large variety of premium toppings. These are the perfect pair for mini dessert bars. In addition, you can give guests a small treat and warm drink as they leave the party. This is especially nice on a chilly evening!
7. Longer Cocktail Hours
Give guests more time to socialize and enjoy a wide variety of passed foods and favorite drinks by extending cocktail hour to two hours. His and hers cocktails are a fun way to let your personality come through while treating guests to unique drinks. Rum will continue to be popular through 2016, but do not feel limited by this!
Wine testing and beer flights also top the 2016 wedding drink trends and are a fantastic way to get the party started. Feature your favorite local blend or brew and let your guests find one they love. Look for perfect pairs to delicious passed hors d'oeuvres like our incredibly popular seared prosciutto-wrapped shrimp with chili aioli dip.
8. Non-Traditional Wedding Décor
When scouring through the top 2016 wedding décor ideas, think classic and elegant yet exciting and full of personality. Decorate your Washington, D.C. wedding venue with a dynamic color scheme, tables in all shapes and sizes, a variety of hanging light fixtures and wedding linens filled with texture and patterns. Then look to your hometown, family history or favorite memories to add some vintage mementos and unique flowers to your 2016 wedding.
9. Creative Wedding Hashtags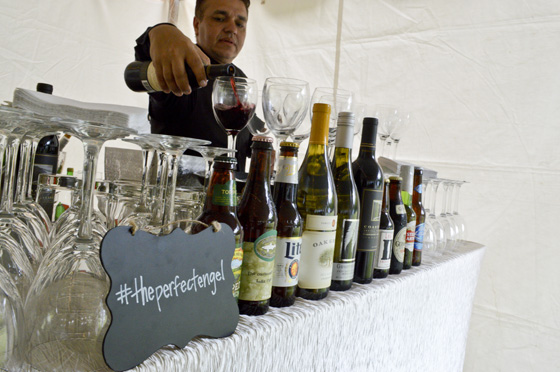 Although some couples encourage guests to take a break from social media, others are incorporating it more than ever. A personal hashtag for Instagram is a great way to share candid photos.
Our creative event designers can help couples create unique wedding hashtags. We take the time to understand your unique style and bring your wedding vision to life. We excel in planning original and joyful weddings in Washington, D.C. without any unnecessary stress.
10. Colorful Bridal Attire
For the dress, V-shaped necklines, blush colors and lace are popular, while bridal styles are also stretching to include pants, fur, sheer skirts and soft tones. Floral crowns with loosely arranged bouquets, likely with natural, stunning flowers, complete the increasingly popular free-spirited look. Heirloom-style veils are also gaining a following.
Groomsmen are opting for textured suits in a variety of colors. Signature bowties add that final touch of individual style!
11. Wedding Invitations That Shine
Nothing says you are invited to a modern chic wedding like a sparkly invitation with stamped and foil-pressed printing. And the invitation is the first of many places where guests will find metallic colors and personal touches. Consider handwriting a note to add an even greater personal touch. It is also a surprising way to relax during the planning process.
12. Vintage Rides to Top Washington, D.C. Wedding Venues
Take a romantic ride to your wedding in a horse and carriage while gazing out at Virginia's beautiful landscape. Or for a more retro feel, arrive in style by opting for an antique car. You can treat your bridal party to a similar experience by renting a vintage trolley. Some transportation companies may allow you to add small decorations to match your wedding theme.
13. Live Wedding Entertainment
Weddings are more interactive than ever, which is one reason that live music is now more popular than a DJ. Add another personal element to your Washington, D.C. wedding by hiring a famous performer or hometown favorite. Bialek's Music has everything you are looking for: bands, DJ's, soloists, and specialty groups. They will help you set the right tone for any wedding atmosphere.
To bring exceptional food and service backed by nearly three decades of catering experience to your wedding, send us a message online or give us a call at (703) 631-0050.
More Articles You Might Like