This Virginia wedding features the charming newlyweds Jessica and Gus. On November 7th, 2015, they said their vows in front of 87 guests at The Winery at Bull Run. Jessica and Gus had such fond memories of their special day that they jumped at the opportunity to share the details with you.
We first met Jessica and Gus at one of our wedding menu tastings. They were looking for "comfort food with a Southern flair" that would match their rustic, outdoorsy wedding theme. As a couple known for showing their love through food, having a professional wedding catering team who could help them accomplish that goal was essential.
We did a few tastings, but Purple Onion Catering had the perfect spin for us. I'm still craving more fried chicken and waffle cone hors d'oeuvres.
-Jessica & Gus
We were so happy when they picked us to cater at their wedding. And at the same time, we were thrilled to see that among the other 80+ venues we service in the Washington, D.C. and Northern Virginia area, The Winery at Bull Run was their final choice; it was the perfect fit for their wedding vision.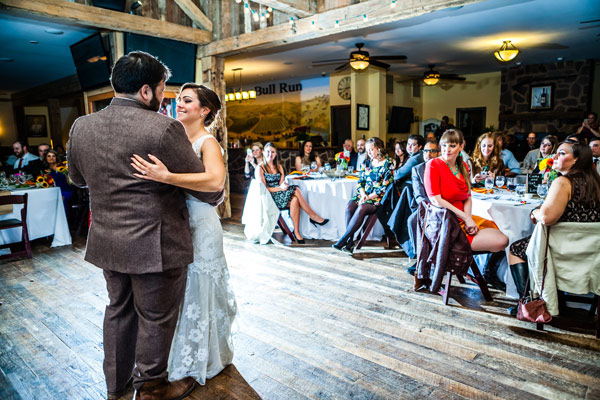 Keeping the casual comfort theme in mind, we served passed and stationary hors d'oeuvres. There was both a dinner buffet and family style service to the head table. Jessica and Gus were front and center, watching their beautiful evening unfold just as they wished.
Rustic Southern Comfort Wedding Menu
Having an abundance of comfort food was very important for Jessica and Gus. They chose a variety of delicious options and also catered to their guests with gluten allergies and vegetarian diets. Fabulous smells wafted through the cozy venue. Guests felt so relaxed that it was as if they were on a big camping trip with the couple of honor. It was beautiful to see and feel the comfy atmosphere among all guests!
Our signature cheese tray was the first menu item to start the celebration.
Signature Cheese Tray: French Brie, Vermont sharp Cheddar, Danish Gouda, Provolone, Havarti with Dill with Grapes, Sun-Dried Fruits and Salted nuts; served with Crackers and Flatbread
Of course, we know that a Southern comfort meal is not complete without a glimmer of sugar and some fried chicken. Our passed hors d'oeuvres did just the trick.
Cinnamon Sugar Doughnut Slider with Braised Maple Pork Belly and Sour Apple Slaw
Southern Fried Chicken and Waffle Cones with a Maple sweet Cream butter
Jumbo Walnut Pesto Stuffed Mushrooms sprinkled with Parmesan
Reflecting the couple's passion for the bold flavors of bourbon and wine, we served savory beef tenders with bourbon demi and grilled chicken with a chardonnay beurre blanc. Here are some more details about the main meal:
Wedding Menu Served in Buffet and Family Style
Oak Barrel Marinated Bistro Tenders with Bourbon Demi
Grilled Chicken with Chardonnay Beurre Blanc garnished with Crispy Purple Onions
Cilantro Roasted Fingerling Potatoes
Butternut Squash Risotto with Cinnamon and Parmesan
Grilled Asparagus with Balsamic Drizzle
Deconstructed Waldorf Salad of Toasted Apples, Red Grapes, Baby Arugula, Walnut Dust and Celery Seed Dressing
A selection of artisan breads and rolls with garlic and herbed whipped butter awaited guests as they sat down to enjoy their meals.
Jessica and Gus wanted to make sure children had their fill of delicious food as well. Their special menu items were a variation of the Southern comfort foods that the adults enjoyed.
Children's Meal
Chicken Fingers with Ketchup
Macaroni and Cheese
Baby Carrots with Ranch Dip
Sliced Fresh Fruit Plate
Sweet Southern Wedding Desserts
The southern flair in this custom menu held strong through dessert. You may notice a twist to the traditional apple tart; Both, Jessica and Gus love Bourbon!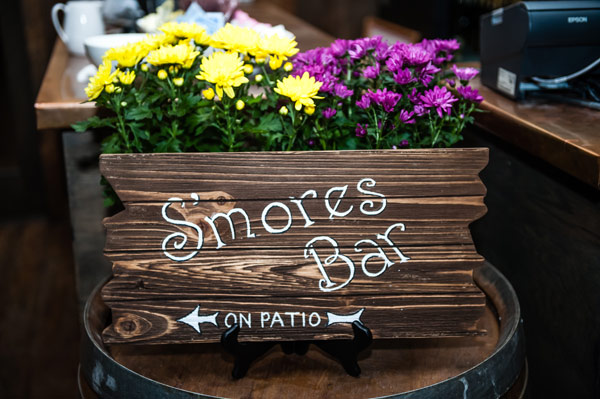 Dessert Menu
Mini Apple Tart with a Bourbon Cherry, filled with baked Cinnamon Apples and topped with Oatmeal Streusel
Cheesecake Sweet Shot with Raspberries made with Vanilla Cheesecake with Raspberry sauce topped with Whipped Cream and Fresh Raspberries
S'mores Bar with all the fixings for proper campfire s'mores
Simple Details for a Casual Wedding
The rustic, casual wedding theme originated from the couple's love of camping in the mountains surrounding Washington, D.C. And the professionals at Forterra Photography were able to capture stunning images in the brisk November evening.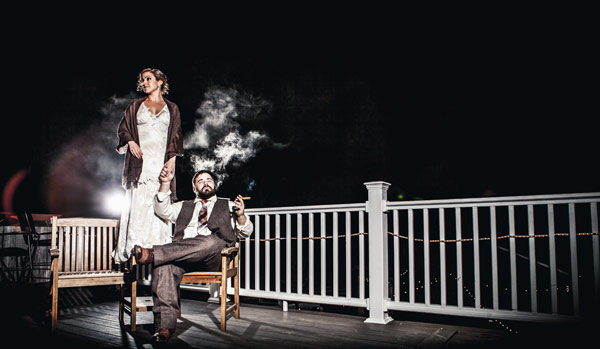 Everything from the comfort food to the burlap and ivory linens embodied the comfortable look and fall colors.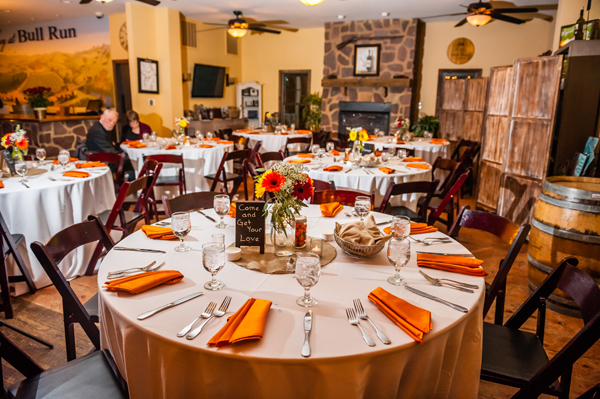 The table centerpieces had a casual vibe of gerbera daisies and mason jars filled with candy corn. One of our favorite DIY wedding projects was the collection of chalkboards, each displaying a song title from the Guardians of the Galaxy soundtrack. Instead of numbers, the song names led guests to their assigned tables. How cool!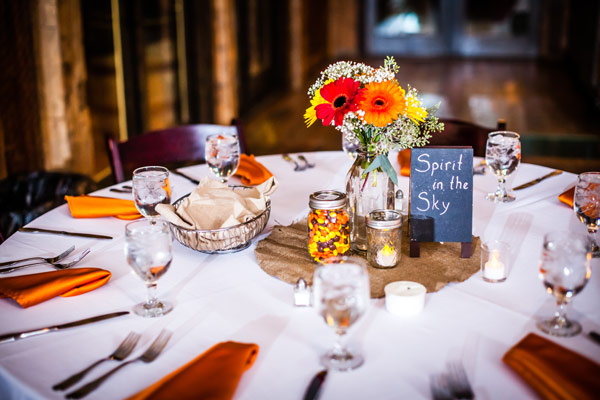 We were so happy to share Jessica and Gus' special day. It was an absolute joy!
If you were inspired to bring your wedding vision to life, we would love to speak with you. With over three decades of experience in the professional catering industry, it is our pleasure to work with couples interested in creating their dream wedding. You can contact us on our website or call us at 703-631-0050.
Photo Credit: Forterra Photography
More Articles You Might Like: