The Washington, D.C. area is about more than government, history and American pride; it is also home to gorgeous wedding venues, four unique seasons and the Event Designers at Purple Onion Catering Co.
Our creative Event Designers give tips for planning your perfect D.C. wedding as they find inspiration for décor and menu items from your unique personality and the surrounding beauty of our nation's capital.
3 Tips for Planning a Washington, D.C. Wedding 
Take advantage of getting married in one of America's most significant cities while still allowing your wedding vision to come to life. From choosing a wedding venue to scouting out favorite local foods, our experienced Event Designers share three keys to planning a spectacular wedding in Washington, D.C.
1. Bring Your Unique Style to a Grand Wedding Venue
Washington, D.C. has no shortage of stunning locations available for rent. But finding the perfect match for your wedding vision often takes a little help. A venue locator tool is a great way to narrow down your options and get a quick inside look into each location. But we highly recommend seeking advice from a Washington D.C. wedding catering company with decades of experience. At Purple Onion Catering Co. this has evolved over the years from our team staying on top of trends and creating new concepts for our brides.
Look to your wedding style, desired atmosphere, guest count and the elements of the season to find a venue that is a perfect match for your wedding vision. Some of our favorite yet drastically different Washington, D.C. wedding venues are the:
Long View Gallery: Located in a hip area of town, this venue is the largest Contemporary Art gallery in the city with 9,000 sq. feet of space. Hang colorful drapes to weave a romantic scenario. With its own inspiration, decoration, and entertainment, Long View Gallery will make family and friends admire the contemporary and chic environment as they celebrate your special day.
Carnegie Institution for Science: Best suited for small to medium sized weddings, this venue has several open floor plan spaces to host an intimate wedding and reception. With a romantic classic architecture and many historical details you will find a romantic and unforgettable setting for your big day.
Arena Stage: If you are planning a very modern wedding filled with vibrancy, you will fall in love with this innovative venue. The Mead Center for American Theater also allows you to hold your ceremony and reception at the same venue. Kogod Cradle is an intimate place to say your vows, while the Grand Lobby is ideal for a beautiful and modern wedding reception. And be sure to hire a great photographer like Kelsey Thompson with Thompson Photography to capture the stunning views from a rooftop terrace with stunning views of the Washington Monument and Potomac River.
Choosing a wedding venue in Washington, D.C. is not an all-or-nothing decision. You can also have the best of both worlds. Our Event Designers can bring modern touches to traditional venues or shape it to match your particular style and requests.
2. Add Creative Washington, D.C. Wedding Decorations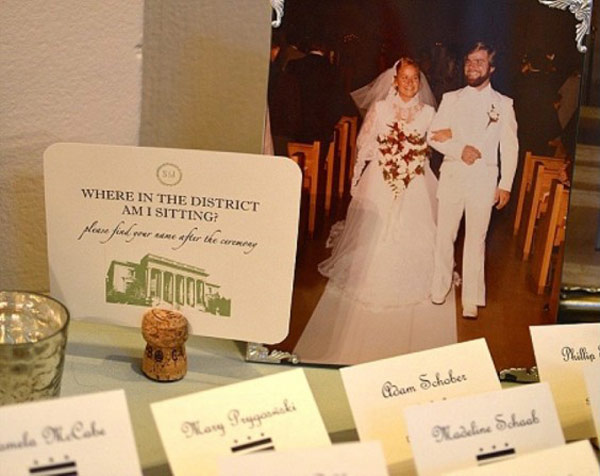 Set the scene by mailing "save the date" cards with your engagement photo in front of the Capitol and wedding invitations containing the D.C. map or skyline. To continue a historic and patriotic wedding theme, put your unique twist on these Washington, D.C. wedding decorations:
Washington, D.C. welcome bags: Decorate with local landmarks and include a mini map of the area. Out-of-town guests extending their visit will put this to good use!
Polaroid escort card wall: Design each card as a Polaroid photo of famous buildings like the Washington Monument, White House and Lincoln Memorial.
"Presidential" wedding programs: Put your stamp of approval and a red ribbon on classic wedding programs.
Patriotic linens and dishware: gold-rimmed china atop blue and white linens makes for an elegant and sophisticated dinner table.
3. Showcase Popular Washington, D.C. Food
Work with Event Designers at a top Washington, D.C. catering company to create a custom wedding menu that complements your wedding décor. Using the finest ingredients and cooking techniques, the Purple Onion Catering Co. chefs put original twists on local favorite foods.
On our sample wedding menus, you will find delicious versions of popular Washington, D.C. food. But keep in mind this is just a sneak peek of all the possible options that we have when it comes to seasonal flavors.
To embrace the traditions from the D.C. area, we created a Classic Steak House Station featuring:
Prime Rib of Beef
Mini Loaded Baked Potatoes
Lemon Caesar Salad
Crispy Onion Rings
Creamed Spinach
For dessert, top your wedding cake with a layer shaped like the Capitol dome and set out a spread of fun mini desserts like our Cheesecake-stuffed Strawberries, Mini Chocolate Peanut Butter Ding Dongs or Mini Piña Colada Macaroons. And for an added sweet treat that doubles as a Washington, D.C. wedding favor, you can hand out iced cookies decorated with local landmarks or chocolates shaped like the Capitol building or a D.C. metro map.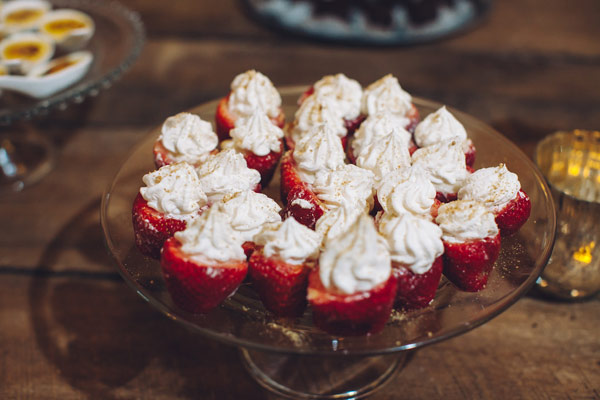 Our company, with nearly 30 years of experience catering in Washington, D.C., knows all the intricate details that go into creating a modern wedding in a historic city. Our creative wedding professionals look forward to integrating your unique personality into a joyful and stress-free wedding in Washington, D.C.
To bring exceptional food and service backed by decades of catering experience to your wedding, send us a message online or give us a call at (703) 631-0050.
More Articles You Might Like: