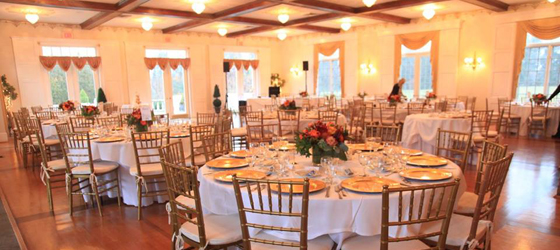 Planning a Unique Fall Wedding in Washington, D.C.
Let the guests of your Washington, D.C. wedding experience the joy of fall in our nation's capital. Our creative wedding planners can help you showcase everything from historic landmarks and events to local ingredients. Use our tips to add in your personal style, and guests will fall in love with your wedding and the Washington D.C. area!
---
Fun Idea: Presidential Washington D.C. Wedding Invitations
Did you remember to add the president to your guest list? We are serious. You can invite the president to your wedding! It is safe to say he will not attend, but you can expect a congratulatory card stamped with an official seal. This makes a great Washington, D.C. wedding decoration or scrapbook centerpiece.
Send your wedding invitation at least six weeks in advance directly to the Greetings Office:
The President & First Lady
The White House
Greetings Office, Room 39
1600 Pennsylvania Avenue NW
Washington, DC 20502
And be sure to let guests know you invited the president!
---
Custom Washington D.C. Wedding Ceremony Decorations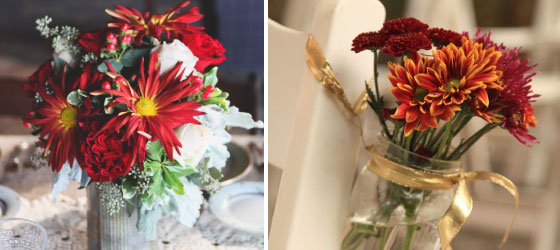 Seasonal flavors, colors and scents bring a unique charm to fall weddings. The whole East Coast, from Northern Virginia to Maryland is filled with beautiful natural elements. Incorporate them into your fall wedding décor to create an unforgettable experience for both you and your guests.
Bring the outdoors in for a fall-forest-in-the-city- themed wedding. For a fun DIY wedding decoration, create pieces that include real birch bark tubes and crystal-covered branches in tall glass vases filled with pinecones and branches. These bring a wonderful natural element to any top Washington D.C. wedding ceremony space.
If the forecast is a bit brisk, offer these cozy extras: Place a stack of shawls at the entrance to your ceremony, or drape one over every other chair at your reception.
Remember the ceremony is where the magic happens, so make it special!
Fall Cocktail Hour Ideas
Before guests take their first bite from your fall wedding menu, invite them to enjoy the brilliant seasonal flavors with a sip of unique wedding cocktails! The best Washington, D.C. catering companies will use local seasonal ingredients to make your individual taste come through in fall wedding cocktails like:
Hot Pumpkin Buttered Rum
Sparkling Apple Cider Sangria
Nutmeg-infused Eggnog Martinis
Spiced Mulled Wine
Orange Bourbon Tea
Showcase a seasonal favorite, local apple cider, by setting up a station with alcoholic and non-alcoholic versions. Whether you are in a big city like Washington D.C. or smaller town like Vienna, you can find a fresh market filled with flavorful local ingredients. Stop by The Dupont Circle FRESHFARM Market and find the best apples and seasonal ingredients.
If you feel more adventurous, enjoy a road trip to one of the many farms located in Northern Virginia. Cox Farms is a local favorite, only about an hour away from Washington D.C.
And do not forget the tasty beers! Washington D.C. has some of the best breweries in the nation, so help guests discover a new favorite. Guests will love beer flights with local craft beer and special seasonal flavors—a sure way to get the party started early!
Festive Wedding Reception Décor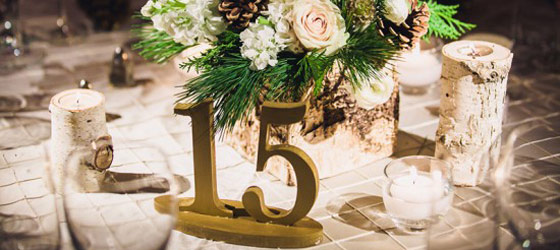 Let the season and local activities serve as inspiration for your Washington D.C. wedding reception decorations. Some of our favorite fall décor ideas are:
LED lighting: Light up any Washington, D.C. wedding venue in style! Hanging light fixtures and environmentally friendly LED lights are among the top wedding trends.
Shimmering colors: Feature colors like gold, silver, or white. This soft metallic color scheme continues to be incredibly popular among weddings of any season.
Rosemary wreath place cards: Fall is filled with fragrant herbs, so incorporate them in more than just your menu. You can help guests find their seat and get ready to dine with small-scale rosemary wreath place cards. These are an easy DIY wedding project that harmonizes beautifully with seasonal menu items like roasted fall vegetables with rosemary and sea salt.
Pinecone place card holders: Keep them natural or paint them with metallic colors to make a fabulous first impression on your lucky guests. 
Ways to Customize Your Wedding Reception
As you look for ways to add your unique style to your wedding décor, be sure to take a trip to the Downtown Holiday Market in Penn Quarte. This hotspot for holiday shopping has a wonderful array of local arts and crafts. Located by the National Portrait Gallery and Smithsonian American Art Museum, you will find plenty of inspiration for artistic fall wedding décor.
And how about ending the evening with one last personal touch? We will set up a hot chocolate bar with a fabulous array of seasonal toppings like gingerbread marshmallows and cinnamon sticks for stirring. Also set out hot chocolate kits and mugs decorated with your wedding date and initials so guests can take home a party favor that reminds them of your wedding.
Our creative wedding professionals know how to make the most of every season and wedding vision. We use your personality as a guide for planning a joyful and stress-free wedding in Washington, D.C.
To bring exceptional food and service backed by nearly three decades of catering experience to your fall wedding, send us a message online or give us a call at (703) 631-0050.
More Articles You Might Like: